Even though conventional medication and surgical treatment are used across the globe, herbal treatment still remains popular. This form of medication, which relies on healing herbs and plants, has been used for centuries and is acclaimed for treating a variety of big and small health issues.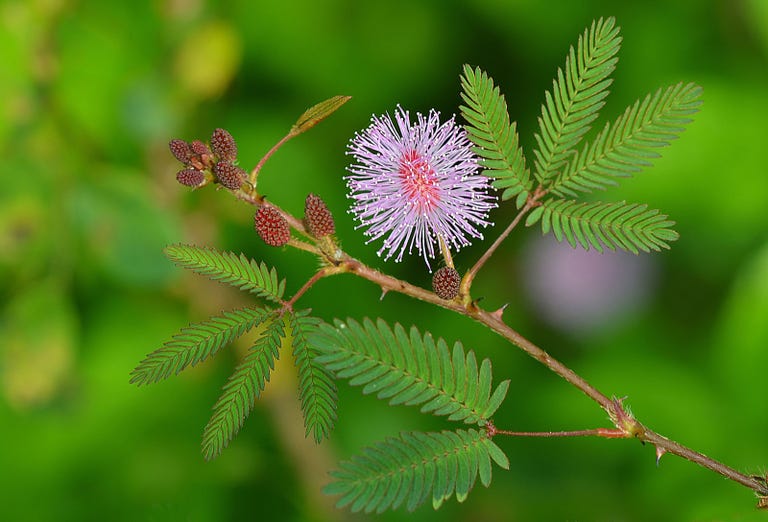 Traditional medical practices such as Ayurveda and Chinese medicine have used herbal treatment to successfully treat the most serious of diseases. Besides being highly effective, herbal remedies are associated with fewer side effects and are comparatively cost-effective too.
Amongst the most popular healing herbs is Mimosa Pudica, which s also known as "Touch-Me-Not" or Sensitive Plant. The plant gets its name because its leaves close or droop as you touch them. However, this is not the only reason that it is well-recognized. Over the years, herbalists have found that the herb is associated with a host of wonderful health benefits. Let us uncover these benefits for you.
1. Heals cuts and wounds: Mimosa Pudica is widely known for its amazing ability to heal cuts and wounds naturally. Herbalists have been using the juice extracted from its leaves to treat wounds for centuries and the efficacy of the treatment has been proved scientifically now. Not only does the application of this liquid speed up the healing process but also provides considerable pain relief.
2.  Natural treatment of piles and hemorrhoids: Besides healing normal wounds and cuts, the herb is also effective as a natural remedy for piles and hemorrhoids. The leaves of the plant are crushed to make a paste which is to be applied over the affected area as a poultice. Also, it can be used as an oral concoction to relieve piles. A teaspoon of powdered leaves is to be mixed in a glass of milk and taken twice a day for lasting relief from piles.
3. Promotes digestive function:
People suffering from digestive issues can rely on this herb for promoting digestive functioning. It alleviates common problems such as stomach ache, diarrhea, ulcers, and intestinal worms. While consuming the juice obtained from crushed leaves help, the herb can also be used in a medicinal form. Mimosa Pudica is available in the capsule form and promotes digestion by dissolving the fat and clearing the intestine effectively. Read
https://microbeformulas.com/products/microbe-formulas-mimosa-pudica
to know more about the product and its benefits.
4. Improves immunity: Being anti-viral, anti-fungal and anti-microbial in nature, the herb is capable of warding off various diseases caused by these harmful organisms. For this reason, it serves as a natural immunity booster. Medical research done with different concentrations of the plant extract has proved that it is highly effective as natural protection against a myriad of diseases.
5. Acts as an anti-venom agent:
Another amazing health benefit of Mimosa Pudica that makes it a magical remedy is its efficacy as an
anti-venom
agent. Herbalists have used the plant's root extract against poisonous bites of insects and even snakes. This is not just a claim but a fact backed by scientific research.
6. Natural remedy for diabetes: Diabetes is a chronic condition that requires intensive monitoring, care, and control. Patients, as well as practitioners, look for lasting relief without having to rely on medicines. Mimosa Pudica has shown proven benefits for bringing down the blood sugar levels in diabetic patients. Herbalists recommend regular consumption of juice extracted from the leaves of this herb for bringing down the blood sugar levels.
7. Natural remedy for hypertension: Hypertension or high blood pressure id another chronic medical condition that can be treated naturally with this herb. Consumption of 15 ml of the juice of the leaves of Mimosa Pudica can bring down the blood pressure levels in just a few days.
8. Alleviates arthritis-related joint pains: Amongst the miraculous health benefits of this medicinal plant is its ability to alleviate arthritis-related joint pain. Application of the paste of its leaves on the joints is known to bring significant pain relief for the patients. It is to be left overnight and washed off in the morning for the best results. Herbalists recommend daily usage to bring long-term relief from joint pain.
9. Heal's itching naturally: Besides a host of health benefits, Mimosa Pudica has also been acclaimed to be effective for relieving minor conditions such as skin itching. A mixture of sesame oil and the paste of the herb's leaves is to be applied on the affected area to get rid of chronic itching. The plant has a natural anti-inflammatory action that makes it effective for the treatment of minor skin problems such as rashes and itching.
10. Treats sexual problems in men and women:
Premature ejaculation is one of the common male sexual issues that can even lead to serious fertility-related implications. Mimosa Pudica is a proven herbal remedy used for treating this issue naturally. Herbalists prepare a medicine by mixing a few seeds of the plant with some sugar. The mixture is added to a glass of milk and consumed every night for
treating premature ejaculation
. Women who suffer from excessive menstrual bleeding can also experience relief by taking a mixture of herbal juice and honey.
Considering the amazing health benefits of Mimosa Pudica and also the fact that it is an affordable treatment option, the herb has become popular amongst health-conscious patients all over the world. It is easily available in various forms such as the juice or paste extracted from the leaves or herbal preparations in the form of powder, syrup or capsules.
While the herb has been known for its amazing benefits, it is still important to be aware of its side effects. The herb or its supplemental products are not to be consumed by women who are planning a pregnancy because it has an anti-fertility impact. Moreover, women who are already pregnant or breastfeeding should avoid taking the herb or any other herbal supplement as these may be harmful for the baby. People suffering from chronic medical conditions should take herbal supplements only under the supervision and guidance of a qualified practitioner or herbalist.